Conclusions: At the municipal garden in Mandarituba, soil was contaminated with transformer oil due to an act of vandalism. COPEL, the utility company was responsible for the cleanup and restoration of the contaminated soils and the company decided to use AgroRemed BR CTBA specially customized for such applications. The site was excavated and treated as biopile with AgroRemed BR CTBA. Both TPH values and VOC's were acceptable and the project is closed. The studies showed that AgroRemed BR CTBA was effective in the ratio of almost 1 gallon per ton of soil contaminated with transformer soils.
Transformers at the substation and spilled oil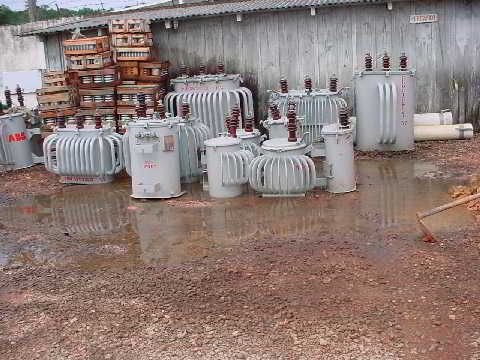 The transformer oil from the transformers was spilled by miscreants at the substation in a municipal garden in Mandarituba in Brazil. The utility company COPEL was responsible for the cleanup according to the regulators. It was not possible to transport the contaminated soil and hence on-site treatment using AgroRemed BR was considered as the available option.
On-site treatment through biopile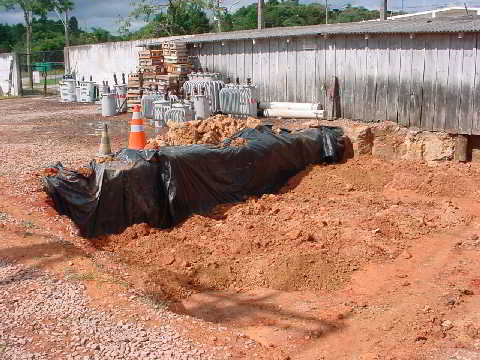 Contaminated soil was excavated and set in biopiles at the site for bioremediation treatment.
Application of AgroRemed BR using watering can
AgroRemed BR received in 55 gallon drums was transferred into inexpensive watering cans for spray on the biopiles.
AgroRemed BR being sprayed on the biopile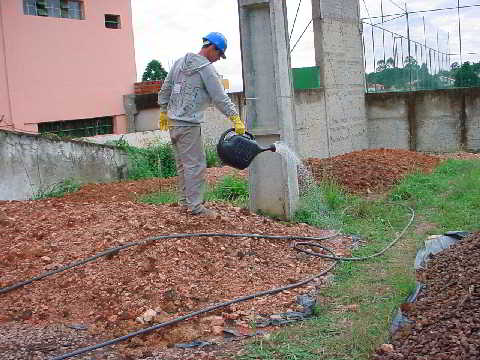 AgroRemed BR was sprayed at the rate of almost 1 gallon per ton of soil and the soil was analysed after three weeks and there was a great reduction in the TPH values. Concentrations of VOC was also determined and based on these values the project was closed.