An environment company was contracted by heating oil company and the insurance company for cleanup of heating oil released in the basement of a home owner in Pennsylvania. The concrete surface was cut open after mopping the free product to reveal underlying soil heavily stained with home heating oil producing strong odors of heating oil. The environment company requested for VaporRemed on a next day delivery basis and we went over to the site for giving on-site support. On first application of VaporRemed one could sense reduction in odor by more than 90% allowing movement of operators without any face mask. One more application of VaporRemed was made before sealing the basement after 10 days and in less than one month the home owners were back as if nothing happened.
Entrance to the basement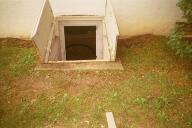 The normal process for cleanup of contaminated soil would be to remove the contaminated dirt and replace it with clean dirt. As the photograph shows excavation of the dirt with mechanical means without affecting the structure is not possible and that was a motivating factor for selection of VaporRemed. In this situation VaporRemed apparently been selected like a fire fighting solution since no other options were available.
Strategy session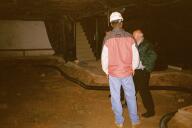 As soon as we reached the site, we began discussing the strategy with the project manager and the photograph shows John our former VP in discussions.
Contamiated area in the basement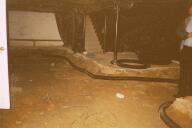 One view of the site to indicate the movement of the spill in the soil below.
Another view of the basement showing contaminated soil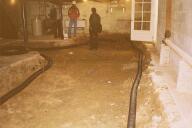 Another view showing the far end view of the basement giving the indication of heavy staining of soil.
Application of VaporRemed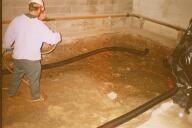 First application of VaporRemed was sprayed using a sprayer attached to the garden hose. The results were almost immediate when the strong smell was found to be progressively reduced in a perceptible manner with application of VaporRemed.